Mother's Day is just around the corner, making any new mother feel all jittery and excited. However, being a first-time mom, your newborn cannot give you anything yet, so that's where the husbands must step up! Here are some gifts for a new mom for Mother's Day. 
*Disclosure: Some of the links below are affiliate links, meaning, at no additional cost to you, I will earn a commission if you click through and make a purchase. 
The Secret to a Great Present 
New Moms have a lot on their plate, and this can be very overwhelming. The best present you can give your wife or partner is something that will be: 
A) memorable 
B) helpful 
C) leave her feeling loved and appreciated 
Not sure what to get her yet? No worries… below are lots of loving gifts for a new mom from her husband for Mother's Day! 
Spontaneous Presents 
If you are like most men, you will have completely forgotten about Mother's Day and are now scrambling to get everything ready. Don't worry, I got you! 
1. Clean the House 
Kids have the amazing ability to make everything dirty in record time. And every mom feels like she is constantly cleaning up.  
Doing a quick clean the night before, or even hiring a cleaning company for an hour or two will make a huge difference, and she can get those extra few hours of sleep she deserves. 
2. No Cooking for Momma 
On top of housework is the responsibility of providing the family with delicious meals, which can often feel like a chore more than a hobby or privilege. Cooking her a delicious dinner, or even taking her out to a restaurant is going to make her feel very appreciated and let her take a break! 
3. Slideshow 
Have younger kids that would also love to get in on the fun? Record a short video of them telling all their favorite things about their mom.  
Not enough time to film and edit? Have everybody pitch in the reasons they love Mom and put them on a slideshow! 
4. Let her Sleep! 
Most moms will agree that the first thing they would love to do for Mother's Day is sleep for an extra hour or so. So, make sure to grab the kids as soon as they wake up and let her catch some extra sleep. 
Or if she prefers, take the kids to the playground, and let her take a nice bath and a nap later in the day! 
5. Visit Family 
Is your wife a people person? Has she been able to visit with her family and friends lately? If you know she would love some time with family and friends, make it happen! Do not just tell her we can spend the day with them but go out of your way to contact them and make it happen! 
6. Quality Time 
If you are like every couple out there, you will always feel like you have too little time for each other. So, make Mother's Day a family day! 
Grab a blanket, a baguette, some cheese and wine, and head out to the park. Let the kids run around while you enjoy a nice picnic. There is nothing like being together and spending quality time together! 
Related Posts:
–20 Most Loved Pregnancy Gifts for First-Time Moms
–Baby Proofing Your Marriage (with Exercises)
Now onto some more practical items you can purchase for her for her first Mother's Day: 
I recently found out about these personalized baby blankets and am planning to buy like, one in every color. No seriously, they are that cute and amazing quality! 
Stork Wares baby blankets are such a meaningful gift for any new mommy. There are also personalized milestone blankets, mugs, and so much more! And the best thing about them? The personalization is free and there are over 50 different prints to choose from! 
8. Spa or Pampering Gift Cards 
Any new mommy is feeling overwhelmed, tired, exhausted, and sore from the strains of giving birth. Even if she is over a year postpartum, a pampering session will leave her feeling refreshed, loved, and recovered. 
Ultimate Tip: Instead of just giving her a gift card which may end up in the junk drawer due to her lack of time, already book an appointment and pre-pay for her. Then just let her know of the exact time and day! And do not forget to book a babysitter as well! 
Which mom wouldn't love wearing the name of her beautiful child on her neck? This dainty, cute, and affordable necklace will have every new mom in awe and swooning. 
I challenge you to ask any mom out there how often she must reheat her morning coffee or tea. If it's only 1 time that would be surprising! 
Make sure her coffee stays warm throughout the day with a cute coffee mug! 
This keychain with the name and birth stats of her new baby will have any mother tear up. What a beautiful way to remember one of the most special days of her life!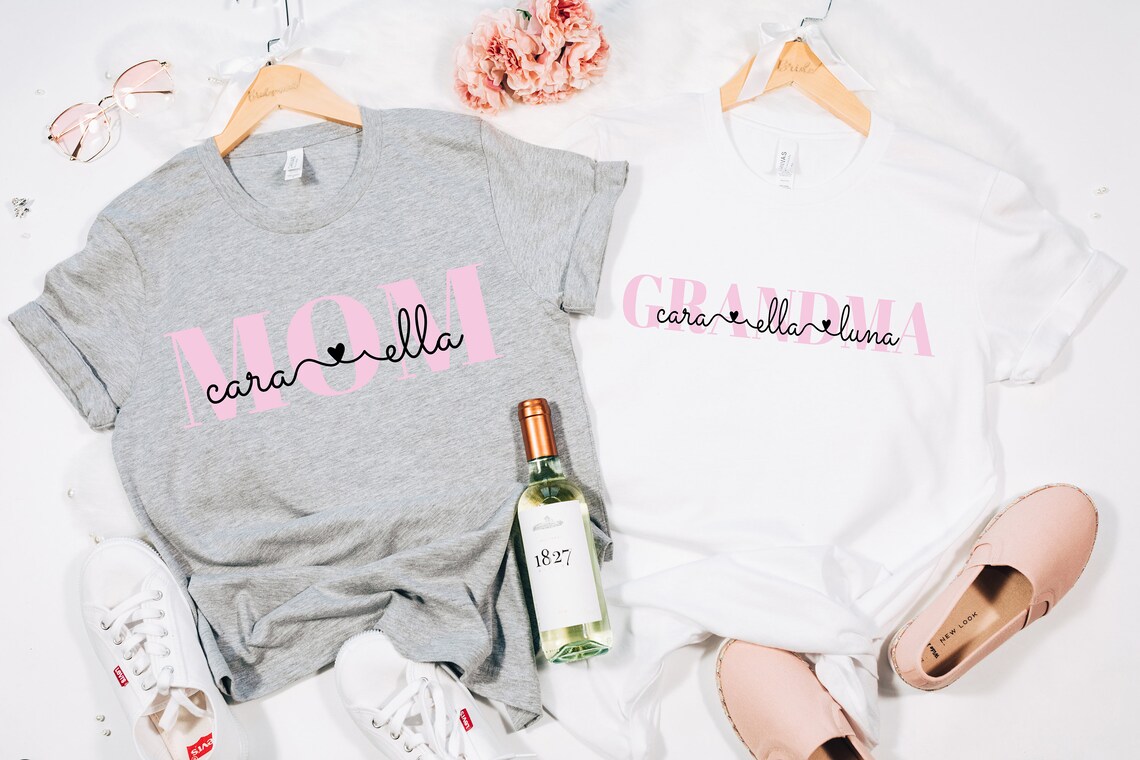 This personalized t-shirt is sure to become her fave. With tons of colors to choose from (bonus points on choosing her favorite color) and easy and quick personalization, it is sure to make her feel teary eyed every time she wears it! 
What do you think of this list? Did you get any good ideas on loving gifts for a new mom for Mother's Day? If yes, make sure to subscribe to our email newsletter where we give helpful tips and tricks for parenthood. 
Until next time, 
Pin It!